| | | |
| --- | --- | --- |
| To better serve our residents, Corvias has initiated a number of new efforts to improve service and support for service members who choose to live in a Corvias-managed Army or Air Force installation residence. Corvias has established The Corvias Commitment™, which is designed to improve its responsiveness, communication and commitment to excellent resident services across its military housing portfolio and expanding to its other partnerships. Read more about it on our website. | | |
Never miss out on important information again!




Follow us on Facebook.




Important alerts are also emailed directly to you.






| | | |
| --- | --- | --- |
| | | NEW DEDICATED LOCAL SERVICE REQUEST LINE |
We want contacting us to be hassle-free so we've set up a new dedicated service request line that is staffed locally Monday-Friday, 8 am to 5 pm.

After hours, the line will roll over to our on-call service so you'll still be able to reach maintenance 24 hours a day, seven days a week.

We encourage you to save this number in your phone for quick and easy access when you have a service request: 866-206-1365
NEW RESIDENT PORTAL & APP

We are excited to announce our new resident portal! You can place and track your maintenance work orders online using the portal.

To register, visit FortBraggCorvias.residentportal.com and provide the following for the service member, or primary leaseholder: name, email and last four digits of their social security number. It's as simple as that! You can then download the Resident Portal App, which is available in your iTunes or Google Play store.
DISCOVER SUMMER FUN IN YOUR OWN BACKYARD!
One of the best things about military life is the opportunity to explore hidden gems in your community. One of those hidden gems is the Rick Herrema Foundation or Rick's Place. Rick's Place was founded by a military family in honor of SFC Rick Herrema who was killed in action in 2008.
Rick's Place is a 50 acre greenspace 5.5 miles from Fort Bragg. Rick's Place strengthens military families and builds community through fun, quality activities. They host FREE monthly Family Fun Days and have a phenomenal park that is open from dawn to dusk 7 days a week. Features also include a playscape in the trees with a kid's zip-line, toddler play area, community garden, trails, a mud kitchen and much more.
To learn more about Rick's Place visit https://rhfnow.org.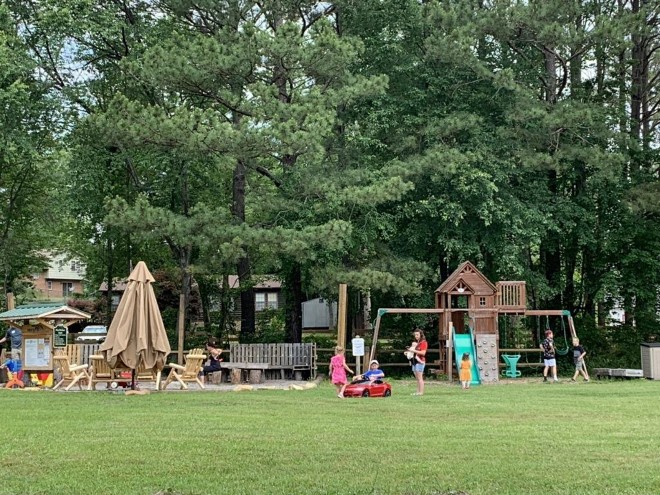 EXTREME HEAT TIPS
North Carolina can experience extreme heat during the summer months. Extreme heat is defined as a prolonged period (2-3 days) of high heat and humidity with temperatures above 90 degrees. In extreme heat, your body works harder to maintain its normal temperature. Remember, older adults, children, and the sick are at greater risk from extreme heat.

Extreme heat can occur quickly and without warning. If you are in an extreme heat warning be sure to find air conditioning quickly, wear light clothing, drink plenty of fluids, and watch for heat cramp, heat exhaustion, and heat stroke.
Check out these additional tips on preparing for extreme heat.
INDEPENDENCE DAY FIREWORKS
As a reminder, it is illegal for individuals to set off any fireworks on Fort Bragg. This includes both the conusmer fireworks as well as the large fireworks purchased in South Carolina or other neighboring states. Instead of putting you or your home in danger, please visist one of the many professional fireworks shows in the area.
Monday, July 1 - Join the City of Fayetteville 4th of July celebration. Gates open at 6:00 pm. Visit The City of Fayetteville for more details.
Thursday, July 4 - Join Fort Bragg MWR for their 50th Annual 4th of July Celebration featuring a live concert by 3 Doors Down. Visit Fort Bragg MWR for more details.
July 4-5 - All community offices will be closed in observance of Independence Day
July 12 - Freeze Pop Friday at the community center pools*
July 19 - Freeze Pop Friday at the community center pools*
July 26 - Freeze Pop Friday at the community center pools*
*while supplies last and weather permitting
Ardennes & Pope

101 Varsity St

Fort Bragg, NC 28307

910-436-6054

Hammond Hills

70 Bastogne Dr

Fort Bragg, NC 28307

910-436-4066

Njimegen

2 Douve Place

Fort Bragg, NC 28307

910-436-4743

Casablanca

625 S Lucas Dr

Fort Bragg, NC 28307

910-495-0120

Linden Oaks Clubhouse

2 Duplin St

Cameron, NC 28326

910-764-4932

Normandy

27 Hunt St

Fort Bragg, NC 28307

910-436-3125

Corregidor

301 N Dougherty Dr

Fort Bragg, NC 28307

910-497-6255

Linden Oaks Lodge

1 Hilltopper St

Cameron, NC 28326

910-764-5000

Ste Mere Englise

7905 Sicily Dr

Fort Bragg, NC 28307

910-497-0510